Bachi da pietra – Italian alt-folk blues. Of bowels, of sweat, of fields and ground
I relax under the shadow in this afternoon summer heat. Right after the lunch. Outside all is quiet and the silence is all around this seaside suburb that hard upon the morning coming and going on the beach, at last exhausted falls asleep, turning away from the sea and hugging the campaign and the cropped fields, just on the inside.
Silence is really everywhere, except for the branches and the leaves caressed by a pleasant and heaven-sent breeze. Only from time to time the silence is broken by the rumble of a far bike that let you best enjoy this summer quiet with its making noise.
I relax and just now I start to enjoy my vacations.
From the low ground window with that light wind come inside the smells and the fragrances of the sunburned field, of the ripening fruits on the trees, of the flowers courted by propeller-whirring hornets, of the vegetables hanging at sun on a white wall, of the red wine left into the glass still held by the hand of the man fallen asleeping on a deck chair.

I relax and I let the music starts: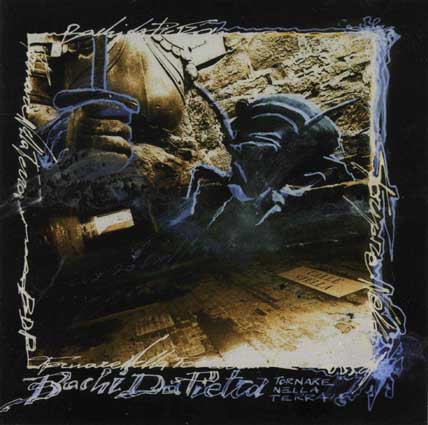 "Tornare nella terra" by Bachi da pietra, an Italian alt-folk-blues.

Made of bowels, of sweat, of fields and ground. The sound is knead with the ground. The same ground who sands smelling messages to me. The sound is one with the ground. The voice is laying down on the music, just like bowing farmers in the fields to draw the lines. Sometimes it seems to only mime the words with the lips. Implied, just like the sweat, implied into the gesture that goes with. Another time it gives lyrics as charming as flavouring and charming as grapes from the grapevine. And it's a chorus of percussions and strings, now beated and bited, now caressed and kissed by hard wine cellar and field's working callused hands, by mouths closed up by the muggy weather and the nearby sea's salt that burrows wrinkles into the burned faces.
I relax and this music is cradling me. It leads me in a trip into my teen memory, among the barrels of wine that inebriate if I was passing too close and the nettles that stinging my ankles while I'm working the ploughs to let the water flows into the ground.
Bachi da pietra - Solare
(download mp3)
Buy "Tornare nella terra" by Bachi da pietra @ Wallace records.